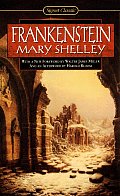 Frankenstein is the original gothic science fiction story.  Published in 1818 by author Mary Shelley, it details the titular character's descent into monstrosity after reanimating corpses.  So gruesome, but so good.
A man named Walton writes letters to his sister as he and his crew sail to the north pole.  He is ambitious, but yearns for a close friend with whom to share his successes and failures.  The men spot a gigantic man on a dog sled on the snow, and soon after another man is seen.  His dogs are dead, but he only agrees to board the ship when Walton promises that they are headed north.  The man introduces himself as Victor Frankenstein, and he decides to tell Walton his tale.  Walton himself recounts the tale in a journal when he can and sends it to his sister.
Frankenstein grew up in Geneva.  His father, Alphonse, was a wealthy politician, and his mother, Caroline Beaufort, was the daughter of his friend Beaufort.  Beaufort lost his fortune and left his home in shame, falling sick and dying despite Caroline's best efforts.  Alphonse took her in and cared for her, gradually relinquishing his public office to marry her two years later.  They have three children: Victor, Ernest, and William.  
Write the second section of your page here.
Vocabulary
Edit
Main page: Frankenstein Vocabulary
The twenty words are:
Dirge, Benevolent, Adversity, Emulate, Languid, Sophism, Obstinate, Vacillate, Precarious, Commiserate, Ephermeral, Ardor, Docile, Derive, Respite, Pretense, Impediment, Wretch, Procure, Entreat